The deep sea fishing trips is the trip for the serious fisherman among you. A Deep Sea fishing trip is an all day cruise and recommended for those with a firm interest in bobbing around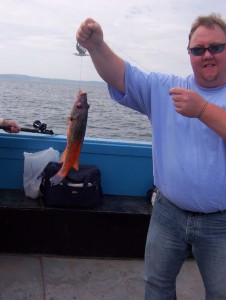 on the sea for the day and seeing what they can catch! It is the ideal trip for those who would like to increase their fishing experience and catch a wider variety of fish. You will also have the expert guidance from the skipper, who has over 28 years of experience in the waters around Exmouth.
What does your fishing trip include with us?
Use of rods, tackle and bait is included in the price

Whatever you catch, you keep (or release, your choice)!

Equipment including tackle, rod and bait are included

Please dress according to the weather as the vessel has limited cover
You will be sailing on the Southern Angler who has toilets and basic refreshments on board though we do suggest to bring a picnic with you. It is also important to remember that you should dress for the worst expected weather of the day to help you keep warm, it can be windy on the open sea! It is not guaranteed you will catch fish as this is dependent on the seasons but your skipper will do what they can to get you on the fish and cast appropriately, either way, you will catch a smile from your day.
We currently operate All Day Fishing trips on a private hire basis so if you have a group or 8 or more interested please get in touch